Transport Minister Pays Familiarization Visit to GCAA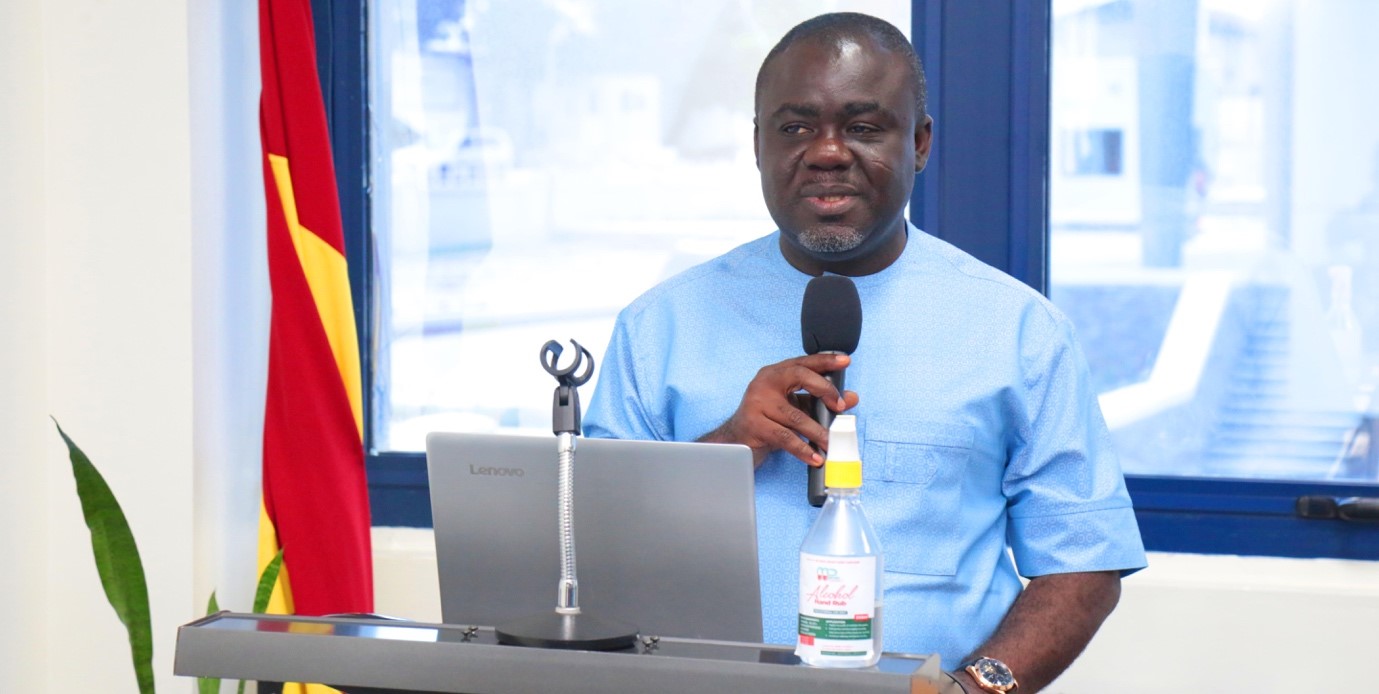 On Thursday, May 6, 2021, a special ceremony was held at the Ghana Civil Aviation Authority (GCAA) to formally welcome the Minister for Transport, Hon. Kweku Ofori Asiamah, to the Authority.
The meeting, attended by Management of GCAA and leadership of the Divisional Union and Professional Associations, saw the Director-General of the Authority, Ing. Charles Kraikue, deliver a presentation on GCAA's mandate and strategic objectives.
The Director-General thanked Hon. Asiamah, who was accompanied by his deputies-designate, Hon. Hassan Tampuli and Hon. Frederick Obeng Adom, for the visit and highlighted milestones attained by GCAA over the years. He emphasized the devastating impact of the coronavirus (COVID-19) pandemic on operations of the Authority, and appealed to the Minister to engage Government on securing further financial support to enable GCAA to complete key infrastructure projects at various stages.
Delivering remarks, Hon. Asiamah recognized the crucial role that the Divisional Union and Associations play in the Authority and called for cooperation from both stakeholders, cautioning in particular against the practice whereby staff of agencies under the Transport Ministry would seek audience with the Minister solely for purposes of maligning others on the basis of partisan politics. He noted, however, that staff who deliberately set out to sabotage Government would be penalised.
The Minister gave assurance that key issues regarding GCAA lands and the Authority's decision to directly collect its share of the Airport Passenger Service Charge (APSC) from airlines were being addressed. He added that Government was committed to financing the construction of a new air traffic control tower.
The meeting was also addressed by the Chairman of the Divisional Union, Mr Raymond Yeldidong Bayor, who spoke on behalf of staff of GCAA. Mr. Bayor appealed to the Minister to support efforts by GCAA to directly collect its share of the APSC, as provided for under the law. He decried the perennial activities of encroachers on GCAA lands and urged the Minister to find a lasting solution to the problem.
The Minister's entourage included Mrs. Mabel Esi Sagoe and Alhaji Abdul-Rahman Amin, who are Chief Director and Director of Finance and Administration at the Ministry, respectively.
Resources for Editors
About GCAA
Created in 1986, GCAA is the regulatory agency for air transport in Ghana. It licenses air transport operations, maintains oversight of aviation safety and security, as well as provides air navigation services within the Accra Flight Information Region (FIR), which comprises the airspace of Ghana and a large area over the Atlantic Ocean in the Gulf of Guinea. It is also responsible for consumer protection and the promotion of the development of Ghana's air transport sector.
Contacts:
Eric Amaning
Manager, Corporate Communications
eamaning@caa.com.gh
+233-302-776171 x 1253
Twitter: @GhCivilAviation
 
About The Author