U.S. Government Donates Aviation Security Equipment to Ghana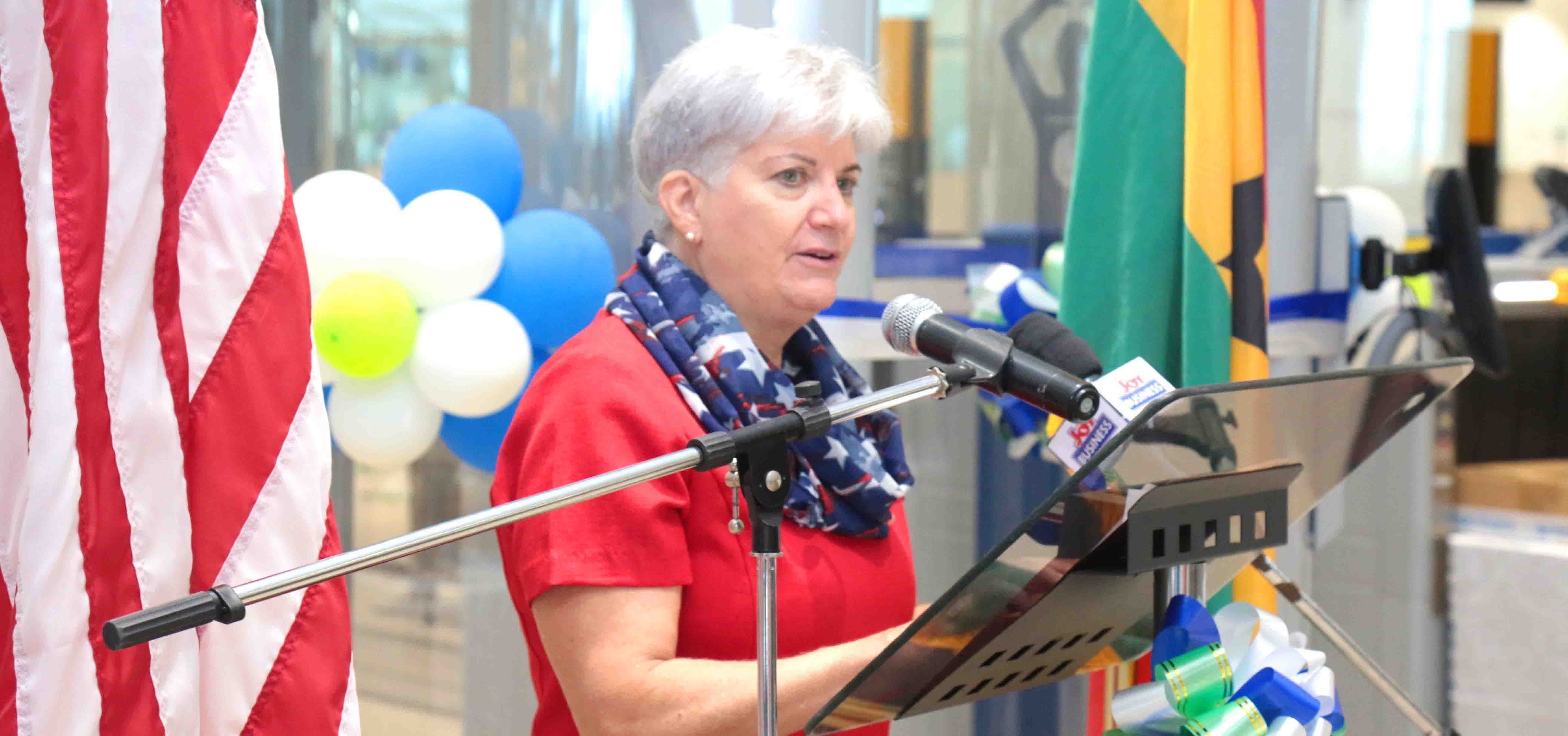 At a special event at the Kotoka International Airport yesterday, the United States Ambassador to Ghana, Stephanie S. Sullivan, formally presented one advanced imaging technology equipment and nine explosive and narcotic trace detectors to the Minister of Transport, Mr. Kwaku Ofori Asiamah.
The donation, overseen by the United States Department of State Bureau of Diplomatic Security Office of Antiterrorism Assistance (ATA), in coordination with the United States Department of Homeland Security Transportation Security Administration (TSA), is in line with the ATA programme's mandate of providing support for an Aviation Security Enhancement Programme (ASEP) in Ghana.
Delivering remarks, Ambassador Sullivan noted the crucial importance of aviation security, screening, and information sharing to the sustainable growth of Ghana's aviation industry, adding that the realization of the airport security training and equipment programmes underscores the robust security cooperation between Ghana and the United States.
Mr. Asiamah thanked the United States government for its generous support, and stressed government's commitment to modernizing aviation infrastructure through strategic investments in air navigation equipment, airports, and the implementation of a transmodal system.
The event was also addressed by the Director-General of the Ghana Civil Aviation Authority, Ing. Charles Kraikue, who concurred with Ambassador Sullivan, noting that the donation of the state-of-the-art equipment, in addition to technical support provided by the TSA to Ghanaian aviation security personnel over the years, indicated America's commitment to the enhancement of aviation security in the country.
In attendance were the Chief Director of the Ministry of Foreign Affairs and Regional Integration, Ambassador Martha Pobee, and the Managing Director of Ghana Airports Company Limited, Mr. Yaw Kwakwa.
Resources for Editors
About GCAA
Created in 1986, GCAA is the regulatory agency for air transport in Ghana. It licenses air transport operations, maintains oversight of aviation safety and security, as well as provides air navigation services within the Accra Flight Information Region (FIR), which comprises the airspace of Ghana and a large area over the Atlantic Ocean in the Gulf of Guinea. It is also responsible for consumer protection and the promotion of the development of Ghana's air transport sector.
Contacts:
Eric Amaning
Manager, Corporate Communications
eamaning@caa.com.gh
+233-302-776171 x 1253
Twitter: @GhCivilAviation
About The Author