Deputy Aviation Minister Pays Working Visit to GCAA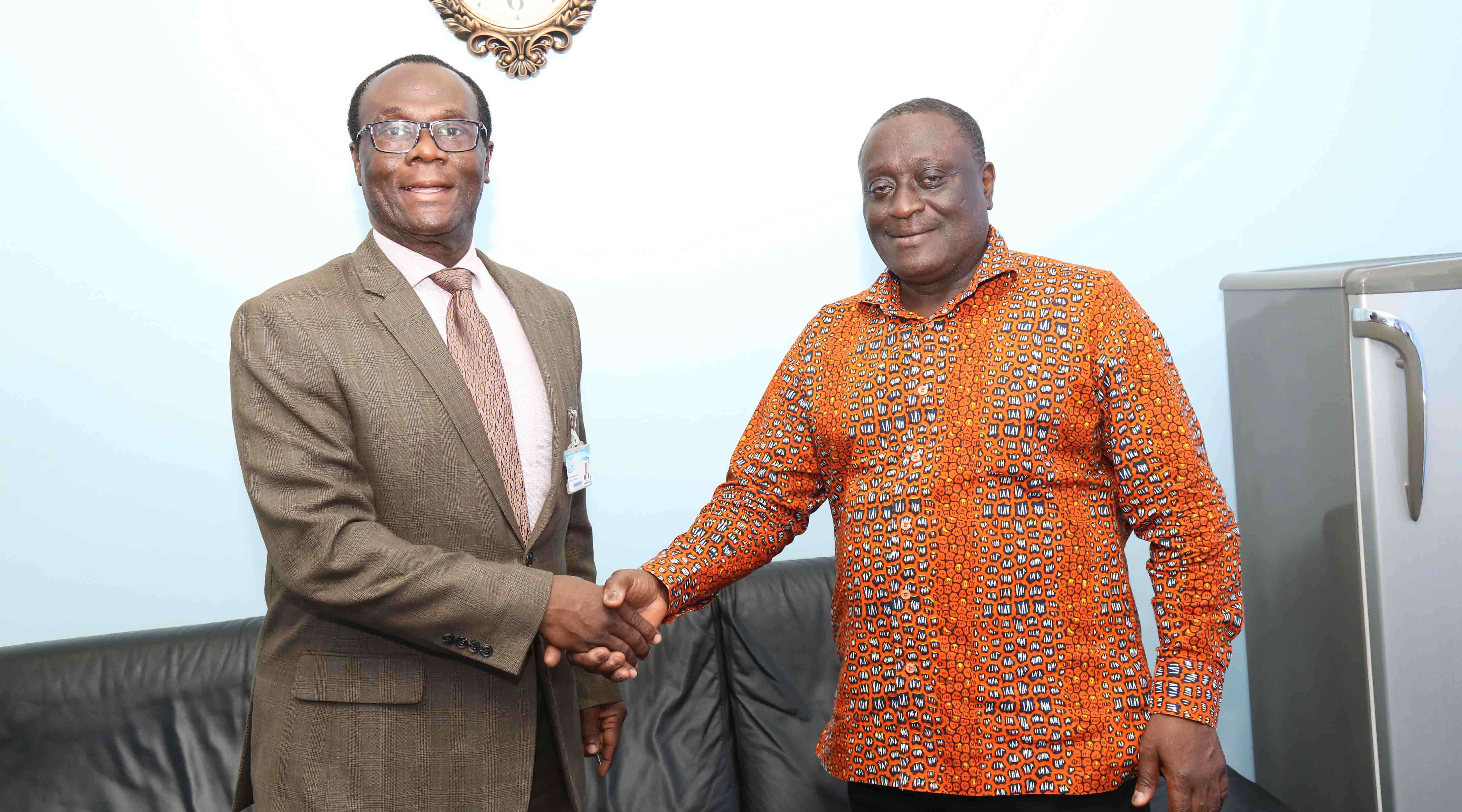 On Tuesday, July 24 2019, the Deputy Minister for Aviation and Member of Parliament for Jaman South, Mr. Yaw Afful (right), paid a working visit to the Ghana Civil Aviation Authority (GCAA).
The visit, his first since assuming office three months ago, was to enable Mr. Afful to familiarise himself with operations of the Authority.
At a special ceremony in honour of this, the Director-General of GCAA, Ing. Simon Allotey (left), highlighted the functions and strategic objectives of the Authority, the implementation of which has earned Ghana's aviation safety oversight system recognition as the most compliant in Africa, within the framework of the International Civil Aviation Organization's Universal Safety Oversight Audit Programme (USOAP).
Commending management and staff of GCAA on these achievements, the deputy Minister pledged government's support for the sector.
Mr. Afful was also conducted round the Ghana Civil Aviation Training Academy, the Air Traffic Control Centre and Tower, as well as ongoing construction projects for new GCAA and Air Navigation Service (ANS) head offices.
---
Resources for Editors
About GCAA
Created in 1986, GCAA is the regulatory agency for air transport in Ghana. It licenses air transport operations, maintains oversight of aviation safety and security, as well as provides air navigation services within the Accra Flight Information Region (FIR), which comprises the airspace of Ghana and a large area over the Atlantic Ocean in the Gulf of Guinea. It is also responsible for consumer protection and the promotion of the development of Ghana's air transport sector.
Contacts:
Eric Amaning
Manager, Corporate Communications
eamaning@caa.com.gh
+233-302-776171 x 1253
Twitter: @GhCivilAviation
 
Raymond Bayor
Corporate Communications Officer
rbayor@caa.com.gh
+233-302-776171 x 1254
Twitter: @rybayor
LinkedIn: linkedin.com/in/rybayor/