Aviation Minister Inspects Work on Infrastructure Projects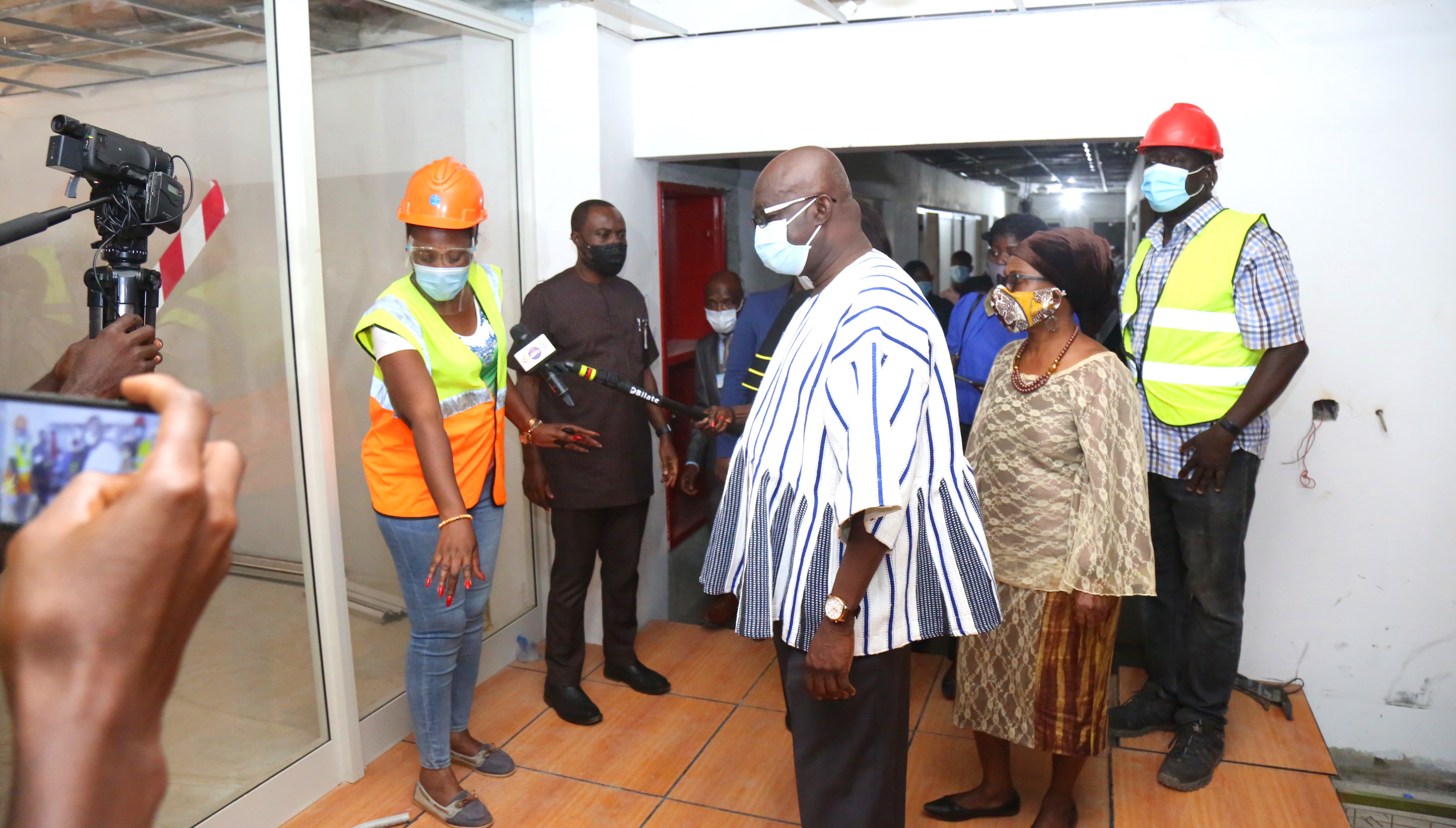 The Minister for Aviation, Mr. Joseph Kofi Adda, has toured three major projects being carried out to support government's vision of making Ghana an aviation hub within West Africa, and a destination of choice for travellers.
The projects, all located within the Kotoka International Airport (KIA) enclave, are the Air Navigation Services (ANS) Centre, an office complex for the Ghana Civil Aviation Authority (GCAA), and expansion works on an apron at the northern side of KIA.
Ahead of the tour, Mr. Adda, in a brief meeting with Senior Management of GCAA, underscored the crucial importance of modernized aviation infrastructure to the sector's ability to attract more global industry players to the country. His remarks were re-echoed by the acting Director-General of the Authority, Ing. Charles Kraikue, who stressed GCAA's commitment to government's vision for the aviation industry.
The tour revealed that the projects are at various stages of completion.
The ANS Centre, a 5-storey building with a basement, is about 82 percent complete. It will deliver air traffic management (ATM) services, communications, navigation and surveillance (CNS) systems, meteorological service for air navigation and aeronautical information management (AIM), among others. It will also be the second largest in Africa after a similar facility in South Africa.
The new GCAA office complex, on the other hand, is an 8-storey facility with a 3000m2 underground parking floor, commercial offices, meeting and multipurpose areas, a data centre, a cafeteria, a gym and an executive lounge. According to the Project Manager, Ben Yeheila, the building, which should have been 40 percent complete, is currently at 25 percent, a delay he attributed to the coronavirus pandemic.
Meanwhile, work on the apron — an area of the airport where aircraft park, unload and load, refuel or boarding —which began a year ago, is progressing as planned. When completed, it will serve as a parking space for up to 13 aircraft.
The Aviation Minister expressed satisfaction with the briefings he received from managers of the three projects.
Resources for Editors
About GCAA
Created in 1986, GCAA is the regulatory agency for air transport in Ghana. It licenses air transport operations, maintains oversight of aviation safety and security, as well as provides air navigation services within the Accra Flight Information Region (FIR), which comprises the airspace of Ghana and a large area over the Atlantic Ocean in the Gulf of Guinea. It is also responsible for consumer protection and the promotion of the development of Ghana's air transport sector.
Contacts:
Eric Amaning
Manager, Corporate Communications
eamaning@caa.com.gh
+233-302-776171 x 1253
Twitter: @GhCivilAviation
 
Raymond Bayor
Corporate Communications Officer
rbayor@caa.com.gh
+233-302-776171 x 1254
Twitter: @rybayor
LinkedIn: linkedin.com/in/rybayor/